Humiliation Phone Sex
"When all a husband can do is watch his wife fuck other men"
"I never thought I would be the one to experience cuckold humiliation but watching my wife bring home other men for sex and having to sit in the same room whilst they do it is a humiliation that perversely I enjoy very much."

Cuckold humiliation takes many forms and not every one is cuckold material. But if you are curious about this type of humiliation, then by all means phone us now and we'll do what needs to be done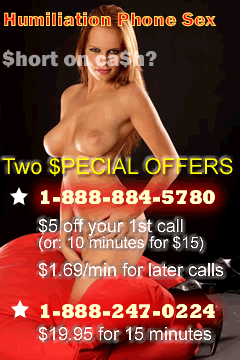 If you are reading this article, then chances are you are feeling inadequate about your ability to please and satisfy your woman.
Whether it is because of the size of your cock, or the way you use it or whatever other reason, if every time after you've made love to your woman you know that the earth never really quite moved for her, then you my friend are a cuckold husband in waiting.
Whilst there is really nothing new about cheating wives, the reality is that the life of a cuckold husband is not always easy, particularly when humiliation becomes part of this reality.
Knowing that you wife is a slut who needs other men to satisfy her and gets off not only because they make love better than you do, but also because she enjoys humiliating you is not something every man could ever hope to cope for.
But just as some men are destined to be cuckold, some women thrive in assuming the role of a slut and for them, cuckold humiliation becomes the ultimate fantasy.
The reality though is that whilst you may get really turned on by cuckold fantasies, your wife or partner may not necessarily want a cuckold husband and in this case, cuckold humiliation by phone is the only alternative.
So, if you are hungry to be cuckold, want to feel like a sissy cuckold and explore your cuckold humiliation fantasies, then call us!