What's a Sissy Cuckold Anyway? : If you are asking yourself then I should probably welcome you to the world of sissies and cuckolds and you have found the ideal femdom to explore your sissy cuckold fantasy with! So what does it mean to be a sissy cuckold, to you and to the people around you.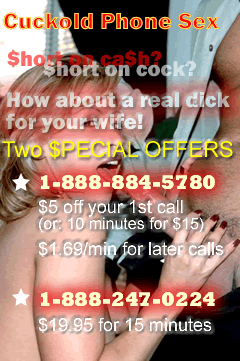 Derived from a french word "cocu" a cuckold is a husband who's wife cheats on him. Cuckold husbands or boyfriends can be looked upon as victims, bystanders who never quite wanted to be in the position they are in, or as willing partners who enter into this life style with their eyes opened, even if for some of them, the crossing from the fantasy to the reality world can indeed be painful.
Within the willing cuckolds, some define themselves (or are defined by their partners) as crossdressing sissies, or simply as sissy cuckolds. It is not uncommon for hardcore sissy cuckolds to forfeit all their masculine aspirations with regards to a normal heterosexual life with their women and indeed some sissy cuckolds may only be allowed to have sex with them infrequently, if at all.
So what's in it for those poor sissy cuckolds? Well the fact that they no longer perform regular sex with their women doesn't mean that they lead a life devoid of sex! Indeed most of them are allowed to participate in the sexual exploits of their partner as voyeurs for sissy cuckolds take great pleasure in seeing the woman they love being serviced by other men! In some cases, it is the cuckold husband who actually arranges for men to meet his wife and entire websites are devoted to that extent, allowing people to post personals for their particular cuckold, sissy and other needs.
Is the life of a sissy cuckold appropriate for everyone? The simple answer to this question is absolutely not! If you are reading this page, chances are you are a interested in this subject and whether a woman or man, know that the repercussions of such a commitment will be long lasting, and will change the relationship you have for each other. That is not to say that the sissy cuckold lifestyle is to be discouraged but my advise is to experiment first and see where it takes you and how well you cope with it. For this reason, Sissy Cuckold Phone Sex is the absolute ultimate method to try before you buy!
Is it the man or the woman who express an interest in sissy cuckold fantasies? It may come as no surprise to you that often times, it is the man who expresses an interest in this fantasy even if nothing in his earlier behavior may seemingly pre disposed him to approach this subject with his wife or partner. Of course, not all wives will be happy to learn of their husbands cuckold fantasies, but for some, it is a dream come true where the woman finds herself in a situation where she is actively encouraged by her own partner to have sex with other men! For these couples, this is a win/win situation: the sissy cuckold is rewarded by the role he takes as a voyeur whilst his wife receives the attentions of other men who bring different skills and even a larger dick to her sexual world. After all, sissy cuckold nearly always feel their wives deserve better men then themselves and their perception of their own inability to satisfy their wife often times lead to the search for men who are better endowed than they themselves are. The size to the penis becomes a focus point and in these cases, small penis humiliation and sissy cuckold fantasies often go hand in hand. Indeed sissy cuckold nearly always have the distinct knowledge that their penis is too small, or not thick enough or hard enough... or they may lack the endurance of a "real man" and thus begins the small penis fan tasty.
Cuckold or Sissy Cuckold? What is the difference between the two? Whilst the main component of the woman needing another man to satisfy her holds true, a sissy cuckold is a man who is feminized by his partner. The sissy cuckold thus makes a departure from the realm of ordinary cuckolds in that he in effect becomes a she, as a feminization transformation takes place. In this case, the cuckold husband is the subject of the ultimate emasculation where his characteristics as a typical masculine male are removed, practically reducing him to the state of a eunuch. This feminization can sometimes be coerced and the cuckold husband may be forced into this role. Forced Feminization however is just an additional source of pleasure for these sissy cuckolds and the pleasure of humiliation from their cuckold activities take on another dimension. Where you are a sissy cuckold or a just a cuckold the same rule will apply to you though. Your wife will fuck other men and some of you will be allowed or required to watch whilst another men do them what you are not capable of doing yourself.
For Sissy Cuckold Phone Sex Fantasies, give us a ring!