Femdom Humiliation Phone Sex
Welcome to my world of Phone Domination. I am fem domme not because I own a domination phone sex business, but rather, own such a business, because I am a dominant woman. See the difference?
I specialize in most types of fetishes including Verbal Humiliation, strap on domination, small penis humiliation, feminization and (or) forced feminization, cuckold humiliation, sissy humiliation, sissy training, forced bi, spanking, chastity training, domestic disciplines and all types of femdom fetish scenarios. Call the number on this page for a phone domination encounter with a femdom humiliation mistress.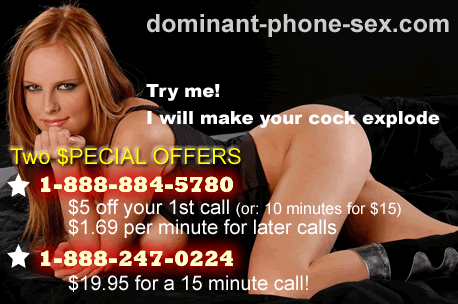 Dominant-phone-sex.com is the place for DOMINATION PHONE SEX
"We are experts in the art of cock control, guided masturbation and orgasm denial which goes hand in hand with femdom tease and denial. To surrender into the control of a Cock teasing Mistress or Femdom Mistress is to walk on the delicious path of orgasm denial domination. "
Femdom Phone Humiliation and Femdom Humiliation Phone Sex welcomes our submissive callers to our unique world of DOMINATION PHONE SEX!
Before you continue, you might want to read our article about phone sex and see how our Gorgeous and Horny Girls will do Anything you Want!.
If you are returning for more, then you know what to do. If you haven't submitted to one of our domination humiliatrix then you are about to embark on a very special, sometimes painful journey where your sexual humiliation will be heightened. When you call domination phone sex girls, you can expect us to do to you any of the following and more:
Get deep inside your head, make our thoughts yours, take control of your. humiliation fantasies and push for more.
Use your sexual desires and exacerbate your humiliation fantasies so that you may face at last face your deepest secrets.
Take advantage of our skills to humiliate you and even embarrass you.
To help you reach complete humiliation with the use of sensual persuasion so that you may reach the level you need to be at.
Be your domination partner so that whatever needs you have will be completely met and fulfilled.
Remember though that you need to be 18 or Older in order to Enter This Site. Concerned parents in need of adult content filtering software, please visit RTLAbel.org
If you are 18+ Or do not want to be humiliated, click here to leave.
PHONE SEX DOMINATION: WHAT IS PHONE HUMLIATION AND HOW YOU CAN ENJOY IT?
In any type of adult game, there needs to be some rules that all partners adhere to. Whether you seek sensual and playful humiliation or harsh, even cruel embarrassment, you are about to embark on a journey of a life time, one which will put markers to any phone humiliation fantasies you have. It is therefore important that you share your limits so that we can make your dreams (or nightmares) come true. A successful Phone Sex Domination session relies on the complete surrender of the caller at the beginning of the call. A Domme and Femdom Phone Mistress can be many thing, but being psychic is not one of them. So speak boy, tell us what you want before we whip you into submission.
Humiliation fantasies come in a variety of "colors" and we have experienced Humiliation Mistresses who care deeply about your needs and know exactly what to do as opposed to actors and women on other services reading from scripts.
Our aim is to guide you and use your fantasies to humiliate and even torment you. As I have mentioned before, humiliation phone sex is a broad subject where one size does not fit all. Cuckold humiliation phone sex is of course a much sought after fantasy, but so is small penis humiliation phone sex which is often times related to the cuckold fantasy. In fact we specialize in any type of dominatrix humiliation and have delicious humiliation stories to tell including chastity humiliation and other domination humiliations.
Let's cover some those but firstly, here is some pertinent information for all of you who are Cock Curious!:
Public Humiliation
This delicious fantasy involves a person who is humiliated in public, in full view of everyone an who better to to this than our sexy humiliation mistress. Public Humiliation fantasies are not something most people are willing to experiment with but when conducted in the context of domination phone sex session (humiliation phone sex), they can be transferred from the fantasy realm of public humiliation to the real thing. Now you have the means to explore your humiliation fantasies in an environment that is both safe and stimulating. Some public fantasies we deal with by phone include being naked in public for everyone to see. In that scenario, we can play with the small penis fantasy and take this CFNM public humiliation to the next level where clothes women ridicule and jeer you, the naked man. Other fantasies include public masturbation and of course feminization humiliation fantasies where the public humiliation takes the shape of being forced to appear in public dressed as a crossdresser, complete with women's clothes and make up. We might even send you to the store with the specific task of purchasing embarrassing items such as diapers, women's personal and hygiene items and other such products. What about instructing you to ask the store owner, preferably a sexy woman if she has condoms in extra small sizes! Public Humiliation Fantasies are wide and varied.
Cuckold Humiliation
Often a derivative of small penis humiliation (and an important aspect of domination phone sex) where the man thinks that his penis is too small and not adequate in size and other aspects to satisfy his wife or partner. As a result of his tiny dick, the fantasy may lead to a situation where he encourages his wife or partner to seek a much larger penis and when she finds it, to be there as witness to her being taken by her new conquest, the man with the huge cock. Cuckold fantasies are not always dependent on small penis humiliation or concern about the penis size. However, when a man fantasized about becoming a cuckold husband or boyfriend, it is nearly always to a very well endowed man. In most circumstances, the wife (partner) is viewed as the insatiable slut who cannot get enough sex from her partner and therefore cannot remain faithful to him. In a cuckold humiliation fantasy the cuckolded husband takes on the role of facilitator where upon he prepares his hotwife for the attentions of her current lover, even helping the couple during lovemaking. (Introducing bisexual fantasies, creampies etc...)
Small Penis Humiliation
Small Cock Humiliation is a very popular subject of humiliation phone sex and doesn't even always mean that the caller has a small penis. In fact, men with regular or even large size penis often request this type of humiliation as the thought of using a penis, the symbol of their male hood as a humiliation tool is extremely seductive. This makes the Small Penis Humiliation more a fantasy that deal with core inadequacies or just another outlet where self embarrassment is used to erotize a person. One thing is certain: a small penis humiliation phone session will invariably confirm into the caller's mind the concept that women really feel strongly about a man's penis and tend to belittle those men who in their eyes are not inadequately endowed. Whatever the reason, this is an extremely erotic fantasy and yet another aspect of a domination phone sex session.
Sissy Cuckolds
When a cuckold voluntarily of is forced to wear stockings, women's clothes and make up. During a cuckold fantasy call, our mistress may gently explore the possibility that her caller is a likely candidate for the position of sissy cuckold.
Sissy Humiliation
Domination Phone Sex expert, Mistress Jennifer tells you how to prepare yourself for that very first call!
CFNM Humiliation
A fun role-pay session during which a caller is playfully mocked, taunted and belittled by his wife or partner, or even a group of people in public. This involves a situation where he is naked in front of women who then humiliate him. This specific humiliation niche calls on various elements such as the small penis humiliation, exhibitionism, voyeurism and public humiliation. The mood can be playful or stern and if you have ever fantasized about masturbating, being on display naked and being aroused by clothed women, then CFNM Humiliation is definitely something you should try.
Sensual Femdom Humiliation
Enjoyed by many men who call our domination phone sex line, Sensual Femdom Phone Sex Humiliation is an outlet for even the more powerful men out there who's challenging careers and status in society require them to be forceful. It allows them to give in to their submissive side and be controlled by a strong woman or Humiliation Dominatrix who's turn it is to take charge of them. Such humiliation when explore through humiliation phone sex is a unique way for men to unwind and pass the reign on. A Humiliatrix is a femdom or dominatrix. Female domination and humiliation are the two sides of the same coin.
Strap On Humiliation
Don't think that your strap on humiliation fantasy makes you unique. It doesn't. In fact strap on humiliation is a common phone humiliation request. Strap on fantasies are a unique and liberated method for the exploration of female domination and bisexual fantasies. Not all men have same sex fantasies, or even strap on domination desires but when they do, these strap on fantasies often time lead on bisexual fantasies.
We hope to have answered some of your question regarding humiliation and domination phone sex and look forward to helping you realize your desires to submit to a strong and sexy Phone Domination Mistress.
The world of Phone Domination, Femdom Humiliation, Verbal Humiliation and all types of humiliation scenarios where a caller submits to a femdom phone Mistress and does as SHE pleases and commands. Let a REAL Domme take care of your needs. We cover all fantasies and our femdom domination phone sex lines cater for just about anything, including strap on domination, feminization and (or) forced feminization, cuckold humiliation, sissy humiliation, sissy training, forced bi, spanking, chastity training, domestic disciplines and all types of femdom fetish scenarios. Call the number on this page for a phone domination encounter with a femdom humiliation mistress.

Stories and articles related to Domination Phone Sex are the property of Dominant-phone-sex.com.